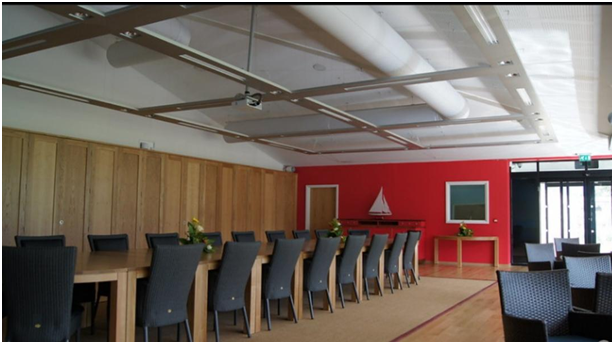 Want to provide your employees with a good working environment and clean air? At the same time, do you want to contribute to creating a sustainable environment? If your answer to either of the questions is yes, then read on to discover why you need fabric ducting systems, how they work, and how they benefit the environment.
Why Do You Need Fabric Ducting Systems?
Data suggests that 72% of office workers globally worry about the air quality at their workplaces. Poor indoor air quality (IAQ) has been linked to symptoms like irritation of the eyes, nose, and lungs, difficulty concentrating, fatigue, headaches, and diseases like cancer.
In this scenario, providing an optimum working environment with good air quality is essential to ensure your workers are productive and efficient. Installing fabric ducting systems at your workplace – a commercial kitchen, office, lab, or gym – is a good place to start.
What Are Fabric Ducting Systems?
Fabric ducting systems are ventilation ducts that transport air and diffuse it. Their material makeup and construction enable them to release the air evenly along the ducts' lengths. Nozzles or vents then guide the released air into the required area.
Several unique features and properties, including the following, can identify fabric ducting systems:
Environmental Benefits of Fabric Ducting Systems
Fabric ducting systems have several environmental benefits. Let's go over them one by one.
Lightweight and Saves Costs
Fabric ducting systems are made of polyester rather than galvanized sheet steel. Compared to the latter, fabric ducting uses over 18 times less embodied carbon per meter square of material thanks to its lightweight. This leads to a decrease in the cost and energy required to transport, the amount of packaging material used, and the space needed for storage.
Made to Order
Fabric ducting systems are made-to-order, i.e., they are created specifically to suit the dimensions and design requirements for their business application. This helps to reduce fabric waste, improve air distribution, and control temperature, resulting in less energy usage.
Improves Air Quality
The fibers that make fabric ducts are efficient and minimize the settlement of impurities from the supply air. Fabric ducts distribute the supply of air uniformly and, in turn, reduce mold, mildew, and airborne contaminants. They do not generate dust, rust, and unhygienic particles, improving the overall air quality. Furthermore Prihoda has a Health Product Declaration, and ensures the material is compliant with the Living Building Challenge's Red List program so there is no risk of harmful off-gassing chemicals or ingredients.
Uses Recycled Materials
Fabric ducting systems at Prihoda can be made from 100% recycled materials. The ventilation systems use about thirteen 500ml recycled plastic bottles for every square meter of material. A typical 710mm x 10m fabric ducting system would save around 290 bottles from merely sitting in a landfill.
Prihoda has a third party evaluated Environmental Product Declaration, ISO14001 certified environmentally friendly production facility, and can be used in several Green Building construction programs such as LEED, BREEAM and Living Building Challenge.
Some other environmental benefits of using recycled fabric ducts include: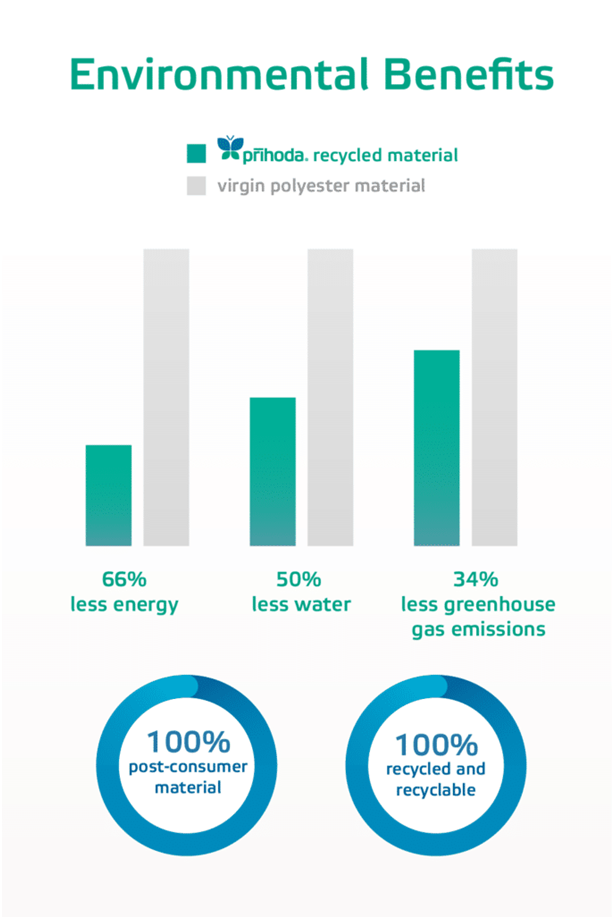 Conclusion
Owing to their environmental benefits and positive business outcomes, are you considering investing in fabric ducting systems?
Look no further than Prihoda, which provides custom-designed air dispersion systems.
Fabric ducts at Prihoda are available in various colors, styles, and more and can meet the ducting requirements for any space. Easily cleanable and safe for the environment, fabric ducting systems come with a long warranty and are a practical choice for installing at every workplace.
To know more about fabric ducting systems, get in touch with Prihoda.
Common Questions About the Environmental Benefits of Using Fabric Ducting Systems
Where are fabric ducting systems typically used?

Fabric ducting systems are usually used in offices, classrooms, commercial buildings, food processing and commercial kitchens, healthcare, sports, and manufacturing facilities. Virtually any space where exposed duct would be viable.

Are fabric ducts easy to install?

Fabric ducts are lightweight and require fewer fixings and assembling components than traditional metal ducts. Thus, fabric ducts are simple and easy to install.

Are fabric ducts fire-resistant?

The fabric ducts at Prihoda are certified UL2518 and meet the norm of fire resistance (NFPA90a). They prevent the spread of fire, produce minimal levels of smoke, and leave no burning drops.

Are fabric ducting systems easy to maintain?

Fabric Ducting is designed to be easily taken down and laundered for a complete hygienic solution. This is why it is often used in Food grade facilities. Unlike traditional metal systems that require specialized equipment and down time, fabric air dispersion systems are often maintained by company maintenance personnel. For frequent cleaning cycles spare sets are recommended.

Are fabric ducts antibacterial?

Because the material is inorganic, and the porosity allows the material to breathe, water is not trapped in the material and there is no food source for microbial growth. Optionally, for enhanced protection some Prihoda materials undergo special treatment before use, ensuring their antibacterial property.

Are fabric ducts antistatic?

Fabric ducts at Prihoda are woven with carbon material and remove the buildup of electric charge from the fabrics' surfaces.

How are fabric ducting systems different from traditional metal ducting systems?

Fabric ducting systems are flexible, lightweight, and breathable, while traditional metal ducting systems are heavy and rigid. Fabric ducting systems are relatively more efficient, distribute air more uniformly, consume less energy, and improve thermal comfort. In addition, the material cost and labor associated with installation of fabric systems often provided significant cost savings.

Do fabric ducting systems come with a warranty?

At Prihoda, the fabric ducting systems come with a long warranty period of 10 years.
External Resources:
https://www.eubusinessnews.com/how-fabric-ducting-technology-promotes-environmentally-friendly-business-practices/